Orthia anti-bedsore cushion
Degree of Risk of Bedsore: High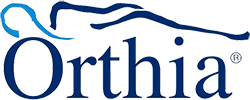 Delivery within 24 working hours

Viscoelastic Square Cushion
Made by the Orthia ® brand in memory foam, it allows for slow recovery, easy molding and sensitive to body pressure and temperature. It perfectly adapts to the user's anatomy, maximizing the support surface and distributing pressure evenly.
⭐ Features
▪ Anatomical configuration of the cushion provides better positioning and greater pelvic stability, thus contributing to greater comfort and convenience for the user.
▪ Pressure relief points favor air circulation, reducing maceration effects and helping to prevent bed sores formation.
Indications
▪ For users at high risk of developing pressure ulcers.

▪ For the prevention of sacral area bedsores in people who remain seated or incapacitated for a long time (paraplegics, quadriplegics, among others).
▪ As an adjuvant element in the treatment of some types of pressure ulcers.
Composition:
▪

Exterior

- Cotton or waterproof lining (removable and washable up to 30°C).
▪

Interior

- Viscoelastic polyurethane foam.
dimensions
▪ 42 x 42 x 8 cm (length x width x height).
Medicinal Item - 6% VAT Included