Expedition of Orders
Except in exceptional and punctual situations, all orders are delivered in three working days;
Our ability to offer is limited to the availability of existing stock. In the event of a stock break, the articles will be shipped later and the customer will be advised by email or telephone that the order has left our premises.
In case the address is incorrect, following the information given by the customer, the new shipping will be charged.
Transport
Shipping Chart
Shipping Price to Continental Portugal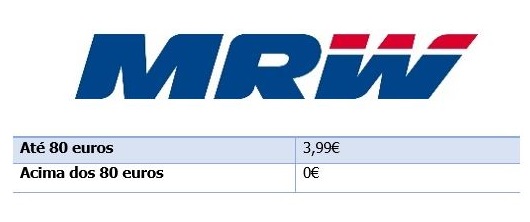 Deliveries to Continental Portugal above € 80 are free.
Shipping Price to Islands (Azores and Madeira)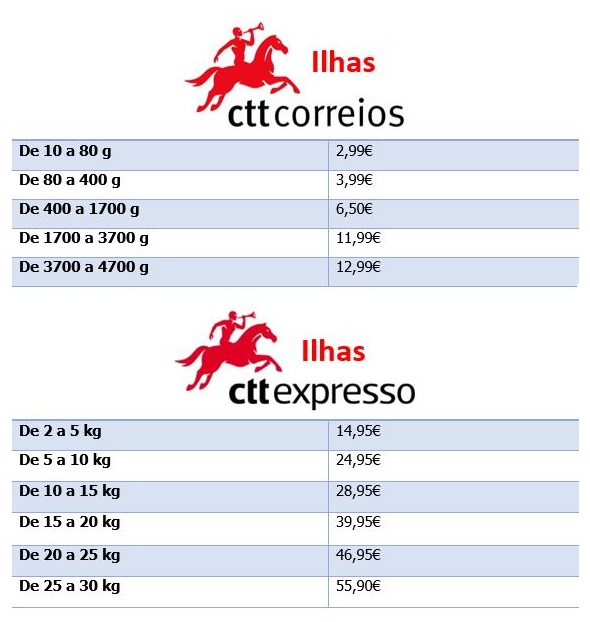 All deliveries will be made at the address indicated by the customer and are currently in charge of the CTT Expresso and MRW for Continental Portugal and CTT Expresso and Correio Registado to the Islands (Azores and Madeira), depending on the weight of the order.
We request that you check the external condition of the packaging when you receive the order. If you notice any defects (damaged or wet boxes or a number of boxes received other than those mentioned in the delivery note), please indicate on receipt.
The delivery service has national coverage and is processed on weekdays between 9am and 7pm.
Guarantee
Non-consumable movable property is guaranteed for two years under the conditions of use and care provided in the respective instructions. The guarantee does not cover damages due to errors in assembly or disassembly or resulting from improper handling of equipment.
Claims and Returns
The Customer has 14 days in a row, from the date of receipt of the order to return the item.

Returned items must be in perfect condition, in the original closed box, with the complete number of units, accompanied by all leaflets and warranties. We do not accept returns for open packaging or used products.

The return of the values ​​of the products will only be done after the receipt of the articles in our facilities and verification of their status. The shipping costs will be borne by the customer, always has the possibility to consult us and request the collection of the product.

We do not accept returns of custom products (made-to-measure products, special colors, etc.), nor those that for hygiene reasons can not be sold to third parties.

If you would like to return, you should contact the Customer Service Department by contacting 244 852 257 or by sending an e-mail to encomendas@lojaortopedica.pt.