Delivery up to 4 working days
Anti-dust mites Pillow Cover 
Manufactured by national brand Orthia ®, this high-quality anti-mite pillow cover is composed of TENCEL fiber, an extremely thin layer of polyurethane and AEGIS Technology. This mattress cover is also waterproof and breathable.
Indications
Recommended for people with sensitive skin, these protectors keep the pillow clean and hygienic.
Features
Antimicrobial and anti-mites permanent technology.
Safe for humans and the environment.
Without migration to the skin or the environment.
Environmentally responsible technology.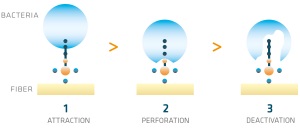 Composition
100% Tencel Fiber – 

This natural fiber from the wood breathes with the body, rapidly absorbing and releasing the humidity, this allows to preserve the body heat, maintaining the natural balance of the skin. Obtained through ecologic processes, the fiber is soft as silk, strong as polyester, cooling as linen, warm as wool and more absorbent than cotton.
Protective Barrier – 

Impermeable and breathable, the extremely thin Polyurethane film acts as the human skin, preventing the development of bacteria and dust mites (a major cause of asthma, rhinitis, and eczema) since these microorganisms are inhibited to feed themselves from the skin scales and moisture. The film is so thin and extensible that it does not notice, providing an excellent comfort sensation.
Antimicrobial Technology - 

In addition, this covers also have an AEGIS Antimicrobial Technology. This is a revolutionary technology based on the fixation of a permanent non-migrant coating on the fibers. The microorganisms are attracted by the coating that punches the membrane, deactivating them, and avoiding is growth and proliferation. Specially developed to deactivate the microorganisms (fungus) that the mites need to feed themselves (Skin Cells), thus interrupting the food-chain, and allowing to control the mites.
Care and Hygiene
Use the washing machine with a maximum temperature of 60º C.
Do not use bleach.
When using the dryer machine, use the minimum temperature.
Ironing with a maximum temperature of 110º C
Do not dry clean