Chair Electric Lift Cosy Up 1 Motor
Manufactured by the Invacare ® brand - international with representation in Portugal. Offers a maximum of comfort thanks to the seat unit one-piece, with continuity up to the leg support, fully cushioned. Modern and with clean lines of the armchair fits in easily in any environment, home or institution.
Features
Relax Position: Comfortable sitting position that allows leg elevation and backrest reclining for a semi-lying position. 
Lifting Position: Helps to move from a seated position to a standing position and vice-versa. 
Provided serial with backrest adjustable in depth.
Provided standard with two seat widths.
Coverings are removable for washing to the machine.
Ergonomic control with two easy-to-use buttons. 
Side bags.
Fully padded.
Warranty: 2 Years.
Approved for users up to 125 Kg.  
Dimensions
Maximum Backrest Recline: 120º.
Total Height: 1050 mm. 
Full Width: 770/800 mm (Thick/Thin Coating).
Seat width: 450/530 mm (Thick/Thin Coating).
Total Depth: 910 mm.
Seat Depth: 450/540 mm (Depends on the chosen backrest position). 
Total Depth with fully reclining armchair: 1520 mm. 
Wall spacing for maximum backrest recline: 90 mm.
Floor Armrest Height: 640/700 mm (Thick/Thin Coating).
Weight: 57 Kg. 
Armchair Control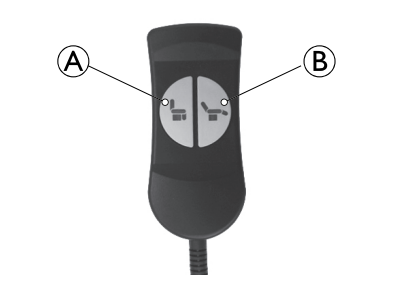 1 - To place the armchair in the elevation position, press Button A.
To return to the sitting position, press Button B.
2 - To raise the footrest and lower the backrest to the reclined position, press Button B. 
To return to the sitting position, press Button A. 
Hygiene and Care Easy Clean Coating 
Machine washable at 40ºC, they can also go to the dryer. 
Anti-stain fabric prevents moisture and resists fire. 
It allows removing daily stains such as coffee, chocolate or even wine with clean cloth with water. 
Technical Information
Who is Invacare?
It is world leader in the production and distribution of innovative medical products that promote recovery and an active lifestyle. I aims to make life experiences possible. International brand has companies in 14 european countries, including Portugal.  
Watch the video below to learn more about Invacare and its facilities in our country!